Valletta Walking Tour Including Grandmaster's Palace
Europe » Malta » Malta » Valletta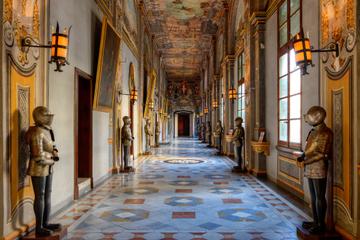 (4.5)
Duration: 3 hours 30 minutes
Departs: Valletta, Malta
Price from USD 37.93
Book Now
Discover Malta's capital city on this immersive walking tour that takes you to Valletta's main sights. See where the Maltese government is housed at the historic Grandmaster's Palace, admire exquisite Baroque architecture and Italian artwork inside St John's Co-Cathedral, and take in views of Grand Harbour from the terraced Upper Barrakka Gardens. Your expert local guide will teach you about Valletta's interesting history and heritage, from the 1500s to today.
You'll be picked up from your Malta hotel and taken to the entrance of the fortified city to begin your walking tour of Valletta, Malta's capital city containing some of the country's richest heritage.
See all of the main attractions, landmarks and monuments of this fantastic city on a leisurely walk with your friendly, enthusiastic guide, who'll provide illuminating commentary about the sights you see throughout your tour, letting you enjoy a more meaningful and immersive experience.
First, visit the Upper Barrakka Gardens, a beautiful public park whose terrace offers panoramic views of Grand Harbour and the old towns of Senglea and Vittoriosa.
After soaking up the scenery, walk to St John's Co-Cathedral, built for the Knights of St John in the 1500s. This sacred place of worship is a gem of Baroque architecture, as you'll discover as you wander through the towering halls. In the church's oratory and museum, marvel at spectacular works of art, including paintings by famed Italian artist Michelangelo Caravaggio.
Your next stop is
the Grandmaster's Palace, a historic site that houses the Maltese government. As you tour inside this magnificent structure, your guide will explain that this was one of the first
buildings
in Valletta, built by knights in 1571. It was originally the house of Eustachio del Monte, a nephew of Grandmaster Jean de la Vallette, the founder of the city.
After your time here, your guide will drive you back to your hotel. You'll leave with a whole new appreciation for Maltese history, architecture, art and culture -- not to mention the beautiful island scenery!
« All Activities