Malta Jetpack Flying Experience
Europe » Malta » Valletta » Valletta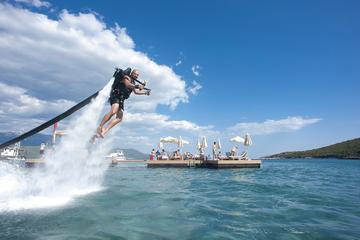 (5.0)
Duration: Flexible
Departs: Valletta, Malta
Price from USD 89.26
Book Now
Get ready to be amazed by the world's first jetpack attraction which provides the ability to fly above and walk on water.
You will feel the incomparable thrill of having to soar high up in the air with an amazing view of Valletta, prominent for its striking beauty. Based on your skill level and comfort, it will take you approximately 5 minutes to get up in the air and enjoy the unforgettable sensation of flying.

You can even go away with it all on film, show off your experience to friends and family and prove that you know how to have fun!
Go solo or tandem, either way you will get wet and have a blast!

Your first amazing flight experience awaits you aboard historical boat Cutty Jean.
The amazing water-propelled jetpack technology allows you to safely and easily hover above the waterways with its state-of the-art equipment. The one of a kind high tech hose is 10 meters long and can propel you up to 10 meters in the air. Light fingertip control inputs allow you to control the angle of your movements, elevations and in water landing. You can move forward, up and down and turn right or left in any direction.

Solo Flight Pilots – Age Range: 12 - No upper age limit/No weight limit. Will be given a full training, safety and flying instruction. All safety gear is supplied along with a wetsuit.

Joyride Tandem Pilots – Age Range: 4 - No upper age limit/Weight limit of 75 kg. Tandem flights are great for children, teenagers and women, and will be with a certified instructor.

Duration
A full solo flight session lasts approximately 15-20 minutes.


« All Activities